SpaMedica wanted to find a solution to their water management that would ensure optimal safety and compliance, while also reducing both the costs and environmental impact associated with us travelling to their hospitals to conduct on-site monitoring.
In October 2022, we approached SpaMedica to propose Remote Monitoring by Aquatrust. SpaMedica agreed to a trial period to test the effectiveness of the remote monitoring system.
Our solution involved implementing a remote monitoring system, allowing real-time monitoring and control of the water systems at SpaMedica's sites. The remote monitoring technology enables us to identify any potential issues promptly and provide immediate updates to SpaMedica, such as recommending flushing outlets.
As this was our first time working with remote monitoring technology, the main challenges were difficulties in trialling and calibrating the temperature measuring equipment, as well as finding a reliable supplier that could meet our requirements.
We carried out extensive trialling and testing of different types of equipment that would allow us to offer an effective remote monitoring service. We collaborated with our chosen IoT technology supplier to ensure exclusive access to a sensor specifically designed for Aquatrust, allowing us to offer Remote Monitoring by Aquatrust as a new service to our customers.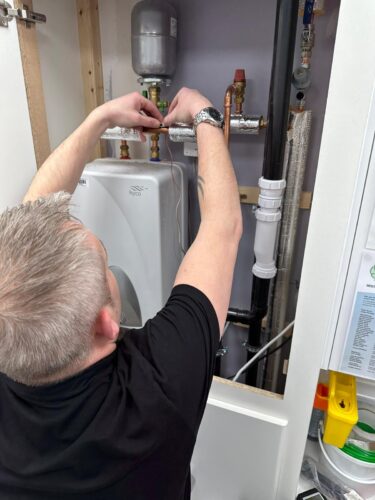 Both SpaMedica staff and Aquatrust employees have been extremely receptive to the adoption of the technology, and the trial period was an enormous success. Everyone involved showed enthusiasm during the rollout of the system, with Aquatrust staff even volunteering for new roles created by the technology, including installation and account management roles.
SpaMedica were so impressed with the trial results that they awarded us a contract to install Remote Monitoring by Aquatrust across all their sites.
Successful outcomes
SpaMedica's commitment to water safety and compliance, combined with the efficiency of remote monitoring, led to remarkable outcomes for both parties.
As remote monitoring removes the need for unnecessary flushing of outlets and the resulting wasting of water, it offers SpaMedica incredible efficiencies in both costs and water usage. We calculated that switching to Remote Monitoring by Aquatrust saved SpaMedica on average 161,502 litres of water a year.
1) Reduced risk: Remote Monitoring by Aquatrust enables real-time monitoring, reducing the risk of non-compliance and associated consequences.
2) Increased compliance: Aquatrust's solution provides SpaMedica with the means to achieve "total compliance" and meet their strict water safety standards.
3) Environmental impact: By minimising travel and associated carbon emissions, Remote Monitoring by Aquatrust reduces the environmental impact of our operations.
4) Labour efficiency: Remote Monitoring by Aquatrust eliminates the need for us to hire additional engineers as our workload increases, resulting in increased labour efficiency.
5) Ongoing relationship: The success of the project strengthened the relationship between Aquatrust and SpaMedica, leading to a long-term partnership and future collaborations.
As we continue to roll out Remote Monitoring by Aquatrust across all SpaMedica's sites in 2023, we look forward to maintaining ongoing compliance and supporting SpaMedica's continued growth.