Ponds Forge is a leisure complex in Sheffield with an Olympic-sized swimming pool and other sports facilities. As a business in the leisure sector, water regulation compliance is a big part of Ponds Forge's health and safety plan.
The CWSTs at Ponds Forge needed upgrading to a smaller, more suitable size. We needed to dismantle the two existing tanks and rebuild them in a reduced size while ensuring they were fully compliant. The job also involved the reconfiguration of inlets and outlets accordingly.
We have a long-standing relationship with the client so they were reassured we were the right supplier for this project. Our experience managing risk in all areas of water safety and compliance for the industry meant we were confident we could overcome any obstacles during the works.
This was a large undertaking for us, and we needed to coordinate with suppliers and customers to ensure all deadlines were achieved.
Dismantling the original CWSTs was more difficult than originally anticipated. However, we quickly adapted and were able to overcome the issue, thanks to the commitment and competence of the team coupled with our extensive experience. During dismantling, we…
Stripped out the existing CWSTs over seven days using impact drivers and grinders, with hot work permits used for the process.
Disposed of all the panels from the tanks away from the site using 40-yard and 20-yard RORO skips.
Disconnected and securely positioned inlets and outlets in preparation for reconfiguration and later connections once the new tanks were built.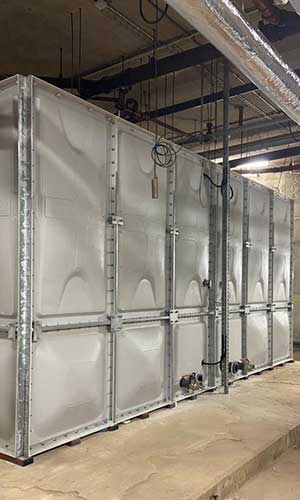 We successfully rebuilt the cold water storage tanks at Ponds Forge International Sports Centre on time and to the customer's satisfaction.
The new CWSTs and associated parts and fittings were delivered and received on-site by Aquatrust on the final day of the dismantling works. We were able to move forward with the build the following week, keeping us within the agreed schedule. Details of the rebuild included:
Working alongside other subcontractors to install new alarms at the front of the water tanks and reconfigure the incoming mains to the CWSTs.
Cleaning and disinfecting the CWSTs as part of the pre-commission before testing and filling. The mains supply was then fully tested and found to be working with no leaks.
Completing the installation of new Keraflows, new outlet pipework, new outlet isolation valves and new drain valves. The associated Booster Pumps were also bled of any air before the new CWSTs were put into use.
After thorough testing, the new cold water storage tanks were completed. The capacity of each tank has been reduced from 60,000 litres to 54,000 litres, leaving Ponds Forge with the reassurance that they are better suited to their use, as well as fully safe and compliant.